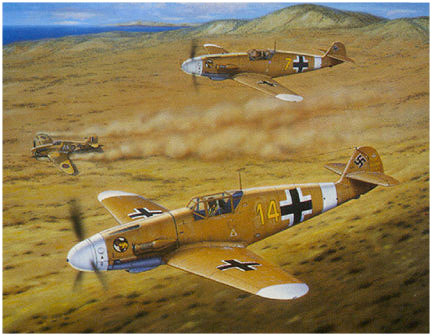 The Star of Africa
The Battle of Britian at times captures the imagination concerning swirling overhead dogfights,the dance of death of,"Experten" ...the German term for the best.
Yet the Battle of Britian was zenithed by another theatre...whose death matches lasted over 3 years.....as the war shifted from places like Malta in the Med..to North Africa....then to Italy and Sicily.
The opponents slugged it out with limited resources...maintenence crews of both sides being the controllers of the days events....ie..how many "Kites" are available today.
These death matches above were fought by men suffering severe privations....many were often sick with diseases and disentary....they continued on as their freinds names where crossed off the flight lists for the final time.
Like a tug of war...the "Advantage" turned for short periods as new aircraft entered service..or familiar ones with "Max power" engines appeared.
The Spitfire V ...the Me-109G...the FW-190.
Gallantry Over North Africa
Luftwaffe Experten Hans Joachim Marseille.."The Star of Africa" found himself in this theatre via the "This guy is not a team player" certificate.
After conflict in France with leadership....Hans's skills found him transferred...here at least...Hans could be a "Hunter"..and have more controll over his daily life....a German fighter pilots dream.
Hans was a killer,[158 recorded]...History,however marks him for an exceptional act of Gallantry ...this killer had a soul.
On Sept 14th 1941.....Hans downed a Hawker Hurricane flown by LT Pat Byers.
Byers was badly burned escaping the wreckage.......brought back to a Luftwaffe airfield.
2 Days later Byers home airfield came alive with anti-aircraft fire as 2 ME 109's aprroached......a small package dropped with a note.
"We are sorry to report that LT.Byers was shot down Sept 14 by aircraft of this squadron.He was badly burned while escaping the cockpit.He is now in Derna Hospital to recover.We wish to express the regrets of the Luftwaffe".
2 weeks later at dawn Marseille returned ,braving the groundfire to deliver a second note which told of LT Byers passing away from wounds...again a comment of regret.
Several at the British/Australian airfield were impressed by this act of Gallantry,yet to them....the messenger was unknown until after the war.
Hans Marseille would not live to fellowship in later years as some do today...on Sept 30th 1942,a year after his gallant act,
Hans lost his life bailing out from his ME 109.
His popularity in Germany rivaled Field Marshall Rommel,
Letters arrived ,some from the allies.........to the Star of Africa.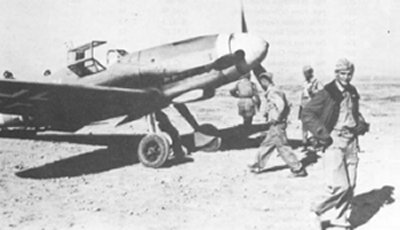 [a detailed account can be found in
World War II magazine Jan 1999 ed]
Eyewitness Account
Gallantry Over North Africa
Hans-Joachim Marseille - Wikipedia, the free encyclopedia