Here is a little forgotten historical tidbit in the onset to the Battle of Normandy . It was where Rommel's Army Group B headquarters were located. beautiful
Chateau La Roche Guyon.
It was not just Rommel's headquarters but also a place where some of the conspirators involved July 20 plot including General Speidel (Rommel's chief of staff), General Stulpnagel and Field Marshal Von kluge discussed about the removel of Hitler's power. Many debate on Rommel's involvment in these discussions.
La Roche Guyon is located 40 miles north of Paris, alonside the
Seine River.
Built in the 12th century , the chateau belongs to the Rochefoucauld Family. When Rommel's headquarters were located to the Chateau, Rommel refused to have the family relocate, so the Duke and his family occupied the upper levels of the chateau while Rommel and his staff occupied the lower levels.
Chateau La Roche Guyon.
he had a U shaped cave like structure built underground next to the building for protection in case of bombings. it also provided shelter, communication and storage for his troops.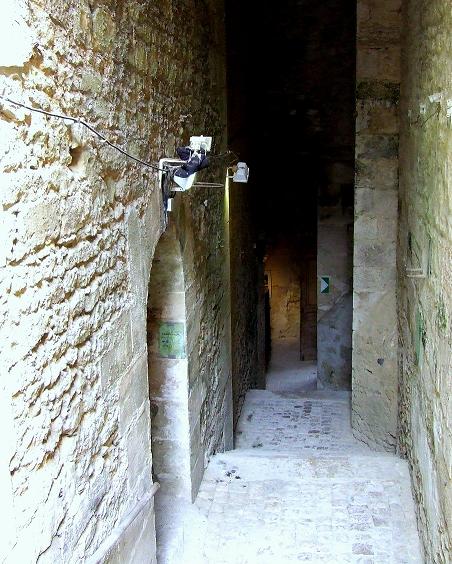 Here is an excellent website with pictures of Rommel at the Chateau, unfortunately it is in only in French but it's easily translatable with the help of translating tool google translator.
google translator...
http://translate.google.com/?js=y&prev=_t&hl=en&ie=UTF-8&layout=1&eotf=1&text=&file=&sl=fr&tl=en#fr|en
|
just copy and paste this address below
http://atlantikwall.superforum.fr/autres-ouvrages-allemands-en-france-f40/le-chateau-de-rommel-t4261.htm
and there you go.. in english.
There are excellent pictures of Rommel delegating with Rundstedt and others in the chateau as well as his private sleeping quarters known as the chamber of the Duchess Zinaida.
This video which I found in the net shows the historical building in greater detail.. but again it's in french ,but the video itself is very interesting. Maybe someone who understands french can give us a translation of the video
All I got to say is Rommel must have felt like a king at his headquarters. A much nicer alternative to the African desert. Unfortunately for Rommel, his Roche Guyon days came to an end on July 17 1944 when he was injured when his car was strafed by a spitfire, which ultimately ended his career..
A little tiny piece of french history that was part of one of the biggest turning points in the 20th century.
I hope you enjoy it folks!
Suzie.
Edited by sunny971, 10 February 2010 - 10:32 AM.