ANGELO KLONIS: The Real-Life Story of an Army Soldier Turned American Icon by Mary Virginia Swanson- The Digital Journalist
if the name means nothing? to you, the iconic photo of him will... scroll down to bottom of page..
Taken from above link..if the pics don't appear? click on link to view in full..
ANGELO KLONIS:
The Real-Life Story of an Army Soldier Turned American Icon
by Mary Virginia Swanson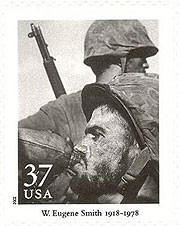 (With Help From W. Eugene Smith)
When visiting the Andrew Smith Gallery in downtown Santa Fe last summer, the sound of live Dixieland jazz lured me across the street, inside "Evangelo's," where I came face-to-face with dozens of photographs of a man I felt I knew - the man featured in the famous W. Eugene Smith photograph, the
face
of World War II. Younger readers will know it, too, as this man's image had been featured within the famous
Masters of American Photography
stamp set that was published by the United States Postal Service in 2002.
This is the story of a young Greek stowaway who lived the American Dream. It is also the story of a spirited search for documentation of his military activities by scholars in the history of photography who, along with his family, discovered more about his life during World War II than Angelo Spiros Klonis had shared with his own family.
Santa Fe, N.M. (June 8, 2005) - Nick Klonis and his mother, Angeliki, proudly pose holding the photograph of his father, a war-weary soldier in Saipan in 1944, which was made into a postage stamp. On the wall above them is another famous photograph from the same take made by famed photojournalist W. Eugene Smith.
Photo by Dirck Halstead
In 1936, at age 15, Angelo left his home in Kephallonia, Greece, as a "stowaway" on a boat bound for Los Angeles, California, in search of a better life. He worked his way from Los Angeles through the western half of the country, finally to Santa Fe, New Mexico, in 1938, where he found a small European-style town with a Hispanic culture, a Greek community and a temperate climate, all of which appealed to him. He happily put down roots.
On December 7th, 1941, life in America was forever changed. Angelo was in the town plaza, a gathering place for the community, when he learned of the Japanese attack on Pearl Harbor. Fiercely loyal to his adopted homeland, Angelo tried to join the Marines the next day but was rejected as he was not a U.S. citizen. Angelo fervently wanted to help in some way at this crucial time and he next tried to join the Army. The recruitment officials said they would accept him into service, regardless of his lack of citizenship, on the condition that he pass the physical, which he breezed through.
Angelo Klonis officially entered U. S. military service on August 10, 1942, and was honorably discharged in 1945. Angelo rarely discussed his wartime experiences with his family, which was not uncommon for men of his generation. The children learned that their father went to boot camp in Ft. Bliss, Texas, and at this time was informed that the Germans had killed his family in Greece, which perhaps intensified his desire to serve and excel as a soldier. Angelo revealed little of his wartime activities until later in life, and even then only a few more tales were shared, including mention of a photographer from LIFE magazine who had taken his picture along the way.
"The Face" of WWII, Army Sgt. Angelo Klonis, photographed by legendary photojournalist W. Eugene Smith in 1944, appears on the cover of a book,
BATTLES: The Art and Science of Modern Warfare
.
After the war was over, assuming that his family in Greece had all died during the war, Angelo returned to his home in Santa Fe where he worked with Greek friends in the bar/restaurant business. In 1946, a letter to Angelo arrived at the Mayflower Café and Bar. It was from his mother, in her handwriting; she had heard nothing from him in nine years, and if he had survived the war, she asked, please return to Greece to see his family. Angelo cried upon learning his family had survived the war, contrary to what he had been told. He began corresponding with his family and in 1950 traveled to Greece to visit them.
It was on this trip that he met Angeliki ("Kiki"), his bride-to-be; within a month they were married. The newlyweds traveled to Santa Fe, arriving in August 1951 to work in the restaurant in which Angelo had retained part-ownership. Their family grew during these years, with three sons born in Santa Fe: Evangelo, in 1952, Nicalaos ("Nick") in 1954 and Demosthenes ("Demo") in 1955. When they lost the lease on their business in 1958, the Klonis' decided to move back to Greece and raise their children among family.
It was during this time in Greece that a small bit of Angelo's war experiences began to surface. Angelo was able to acquire the vacant lot next to the Klonis family home, and set about building a home for his own young family. Curiously, he built a house made primarily out of bamboo, unique for this region of the world. The house featured many handcrafted elements as strong design details throughout. Everyone was obviously curious as to why he chose to build a house with Polynesian elements, but Angelo never revealed why nor how he was become inspired to do so.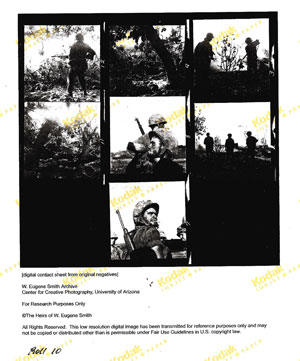 B/W contact sheet of photos by famous photojournalist W. Eugene Smith, shot in Saipan in 1944, shows Army soldier Angelo S. Klonis in action. The frame in the middle, of Klonis in profile drinking from a canteen, became a U.S. postage stamp in 2002.
Courtesy of W. Eugene Smith Archive, the Center for Creative Photography, University of Arizona, Tucson
Angelo and his family lived in his native Greece for 10 years, and in 1969 returned to Santa Fe for the opportunity to work at the Plaza Restaurant, owned by his good friend Dennis Razatos, who was his oldest son Evangelo's godfather. Not long after, Angelo learned that a bar was for sale on San Francisco Street, just off the plaza, and in 1971 he bought the establishment and named it "Evangelo's." To give it a new look, Angelo re-designed the interior with a "South Seas" décor, lining the walls with bamboo as he had done with his home in Greece. He outfitted the wooden bar with hand-carved sea horses, seashells and other beach icons, hung lanterns from the ceiling in a "kon-tiki" style, right down to the glassware; a homespun appearance out of place for the high desert Southwest and a curiosity to all including his family, whose questions about the origins of this curious Polynesian style went unanswered. The Santa Fe Reporter did a feature story on Evangelo's on December 9, 1976, entitled "South Seas, West San Francisco," referring to Evangelo's theme and location.
"Evangelo's" became the focus of life for the Klonis family, with the sons joining their parents after school and on weekends. Nick, then a young soccer star, remembers a day in 1972 when he told his father that he was to be photographed by someone from a sports magazine. When Angelo heard this, he quickly came out from behind the bar and with great enthusiasm said, "Find the picture the photographer from LIFE magazine took of me in the war!!" He told Nick that he thought it was published, that he had a cigarette in his mouth, but he'd never seen it. Something about Nick's forthcoming photo shoot with a magazine photographer clearly struck a chord with his father.
None of Angelo's family had ever heard anything about his being photographed by someone from LIFE magazine. Nick recalls mentioning it to patrons in the bar, some of whom confirmed that somewhere they had seen a famous photograph of a World War II soldier. He viewed all the covers of LIFE at the Santa Fe Public Library, but found no such photograph featured on the cover (it was never published as a cover image). The family's curiosity never diminished, however, and Nick periodically picked up the trail of the mysterious photograph taken of his father during the war.
Close-up of Sgt. Angelo Klonis' famous wartime portrait by LIFE photographer W. Eugene Smith hangs in "Evangelo's," Klonis' bar in Santa Fe, N.M.
In 1991, Nick located a publication featuring the missing photograph; there it was: the image of his father with the cigarette on the cover of a book that Time-Life published called "LIFE - 50th Anniversary of World War II." He was overwhelmed with joy to finally see the published photograph made by the LIFE magazine photographer; the image was credited to W. Eugene Smith. The Klonis family proudly displayed it at both Evangelo's and the Mediterrean Café, which they also owned in Santa Fe. Almost immediately, patrons began to mention how they loved that image, and how it was a favorite among those documenting America at war. The significance of the photograph was becoming clear; Angelo's likeness was known worldwide, representing to many who viewed it all the soldiers who fought in World War II.
A few years later, Nick saw a second published photograph of his father, this time holding a canteen in his hands. This image (which we now know as "uncropped") showed several other soldiers around his father. This time it was featured in a book about WWII battles in Saipan, in the Pacific Theater, which bewildered Nick; his father never mentioned he was in Saipan - Europe, Africa, even Norway, but never Saipan.
In 1998, Marcia Tiede, Curatorial Associate and Cataloger from the Center for Creative Photography (CCP) at the University of Arizona in Tucson, visited Santa Fe and stopped for lunch at the Mediterranean Café. The CCP (
www.creativephotography.org
) holds the archive of photojournalist W. Eugene Smith with which Marcia was very familiar. Upon seeing the framed cover of the book featuring the Smith photograph, she asked the waitress why this was so prominently displayed and was told that the man featured in the photograph was the patriarch of the family that owned the restaurant. Within the same year, a project was to begin that would feature the Smith photograph; it was extremely fortuitous that a staff member at the CCP now knew where the soldier's family resided.
In 1998, Peter C. Bunnell, McAlpin Professor of the History of Photography and Modern Art at Princeton University, was commissioned by the United States Postal Service to determine a set of 20 individual images that best depicted
Masters of American Photography
. This page of stamps was the final offering in the USPS' "Classic Collection," and after four years of research and production was released with fanfare in June 2002; sixty million stamps were sold.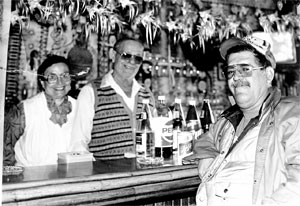 Angelo S. Klonis and his wife Angeliki ("Kiki") with an unidentified patron in their Santa Fe, N.M., bar, "Evangelo's," around 1980.
CREDIT
In Bunnell's final selection, W. Eugene Smith was included among such notable photographic artists as Ansel Adams, Imogen Cunningham, Alfred Steiglitz and Minor White. He selected Smith's photograph of the WWII soldier drinking from a canteen as best representing his body of work. The USPS's path to find the Klonis family and secure the necessary model release, pre-publication, was not quite so simple, however.
A business in Washington, D.C., called Photo Assist was contracted by the USPS Stamp Development Office to find the man featured in the Smith photograph in order to secure a model release. They contacted the CCP seeking permission, knowing Smith's archive was housed there, and Ms. Tiede was able to tell them to contact The Mediterranean Café in Santa Fe and speak with the family of the soldier prominently depicted in the Smith photograph. The Klonis family shared with me a copy of a letter from Photo Assist to the USPS stating, "per Marcia Tiede, Curatorial Associate and Cataloguer at the CCP Library, the soldier's name is Evangelo Klonis."
[NOTE: This letter, and other documents related to the publication of the Masters of American Photography, was obtained by the Klonis family though their attorney, Mr. Jere Corlett, who filed for its release under the Freedom of Information Act through which they filed for access to documents in March of 2005.]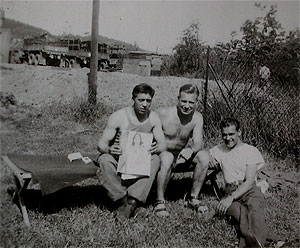 Three WWII soldiers sitting on a cot (L to R), "The Italian," John Ray Underwood and Angelo S. Klonis, take a respite from the war.
Nick was informed of this project and told of the possible development of the photography stamp set and its confidentiality until its final approval. On September 14, 2001, the USPS requested the family's permission for Angelo's likeness to be featured in the
Masters of American Photography
stamp series, and was given a copy of the photograph with the canteen mocked up as a U.S. postage stamp, marked CONFIDENTIAL. The USPS asked Nick to verify that the man with the canteen was his father, which Nick confirmed and explained that more photographs of his father were in the Smith Archive at the CCP in Tucson. In 2002, Nick was again contacted by the USPS Stamp Development office and told the photography series was to be released and he could now reveal this to others. Nick was told "the Smith heirs anxiously awaited the Klonis family's permission to include this iconic Smith photograph in the
Masters of American Photography
series." They told Nick they did not have a budget to pay for the release, asking what might be acceptable to the family in exchange for their permission. They requested a set of first-edition stamps and the first poster to be released for marketing the series that featured the photograph of Angelo.
The family excitedly awaited the publication of the American Photography series. On June 13, 2002, the USPS held a celebration for the release of the stamp set at the Museum of Photographic Arts in San Diego, where the family was represented by Angelo's son Demos. Upon receipt of the promised poster promoting the stamp series, Nick proudly installed it in Evangelo's, a companion to the cover of LIFE. Comments and queries from patrons increased, many asking about the location and circumstances surrounding the photograph.
Nick became increasingly curious about his father's whereabouts during the war and began to research the authenticity of the caption. It was known at this point that Angelo was in Normandy during the early summer of 1944 (on Omaha Beach on D-Day) and Smith was in the South Pacific at about the same time. Nick contacted the Army to have his father's military records released, only to learn that in 1973 a fire had destroyed all related documents at the Army facility in St. Louis where they were purported to be held. Having reached a dead end for confirmation by the military that Angelo was in Saipan at this crucial time, Nick resumed his search elsewhere.
In the summer of 2004, Zig Jackson, a noted photographer whose work is represented by the Andrew Smith Gallery, happened across the street into Evangelo's and was immediately fascinated by the Smith photographs on the walls. He began talking with Nick about the images. Nick explained that he needed help identifying his father's whereabouts at the time Smith took the photograph. Jackson suggested that Nick contact James L. Enyeart, a respected author/curator and scholar of the history of photography. Enyeart lived in Northern New Mexico, had been a very close friend of Smith's (who passed away in 1971) and served for years as Director of the Center for Creative Photography where many of Smith's negatives and archive items are housed. Jackson thought Enyeart would be able to help Nick in his search for the facts about his father and the Smith photograph.
Nick contacted Jim Enyeart, who was very interested in the story of the Smith photograph. Soon afterwards, he and his wife Roxanne Malone had a wonderful time sharing stories with Nick and his mother Kiki. Enyeart reviewed the materials proudly displayed at Evangelo's, including family photographs, documentation of the quest for military records, and letters from the USPS Masters project among other items.
W. Eugene Smith's iconic photo of Army soldier Angelo Klonis, cigarette clenched between his lips, illustrates the cover of a LIFE book,
World War II
.
Edited by sniper1946, 01 July 2010 - 01:57 PM.