Hello all,
A few weeks ago I acquired this Soldbuch of a Fahnenjunker / Oberfeldwebel in the Fallschirmjäger Regiment 5, of the 3. Fallschimjäger division.
Unfortunally the pictures are missing in the soldbuch and driverslicense, but there I have a big passion for the fighting in the Ardennes and Hürtgenwald I couldn't let this one go.
I have quite some books about this battle and lately acquired another one, where in this book his name was mentioned twice.
I tried to type out the battles his unit fought (II.Batl./5) and I hope you find it interesting to read.
I also decorated the topic a little bit with some other material I had...
Kind regards,
Nick
Document grouping from:
Fahnenjunker / Oberfeldwebel Johannes Richter
Zugführer in the 6. Kompanie, II. Bataillon,
Fallschirmjäger Regiment 5, der 3. Fallsch.Jg.Div.
Grouping consists of:
Soldbuch Luftwaffe (without picture) issued on 3 September 1939.
Wehrmacht Führerschein issued on 12 January 1940.
Verplichtungsschein, 1 October 1932.
Schiessbuch from the years: 1932, 1933, 1934, 1935, 1936.
Besitzzeugnis Spanien Kreuz in Silber.
Besitzzeugnis Eisernes Kreuz II. Klasse.
Besitzzeugnis Verwundeten Abzeichen in Schwarz.
Besitzzeugnis Verwundeten Abzeichen in Silber.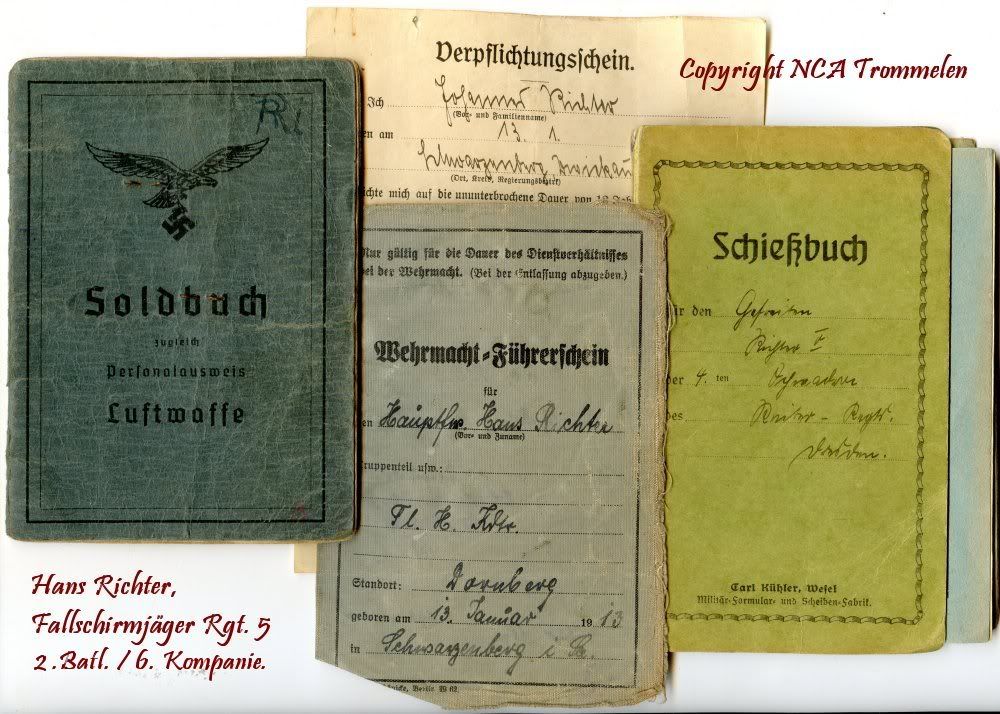 Johannes Richter which was born on 13 January 1913 in Schwarzenberg, Vogtland. Starts his military carrier on 1 October 1932, signing off for 12 years of service in the German "Heer".
His soldbuch was issued on 3 September 1940.
Erkennungsmarke No. 145.
Blutgruppe B.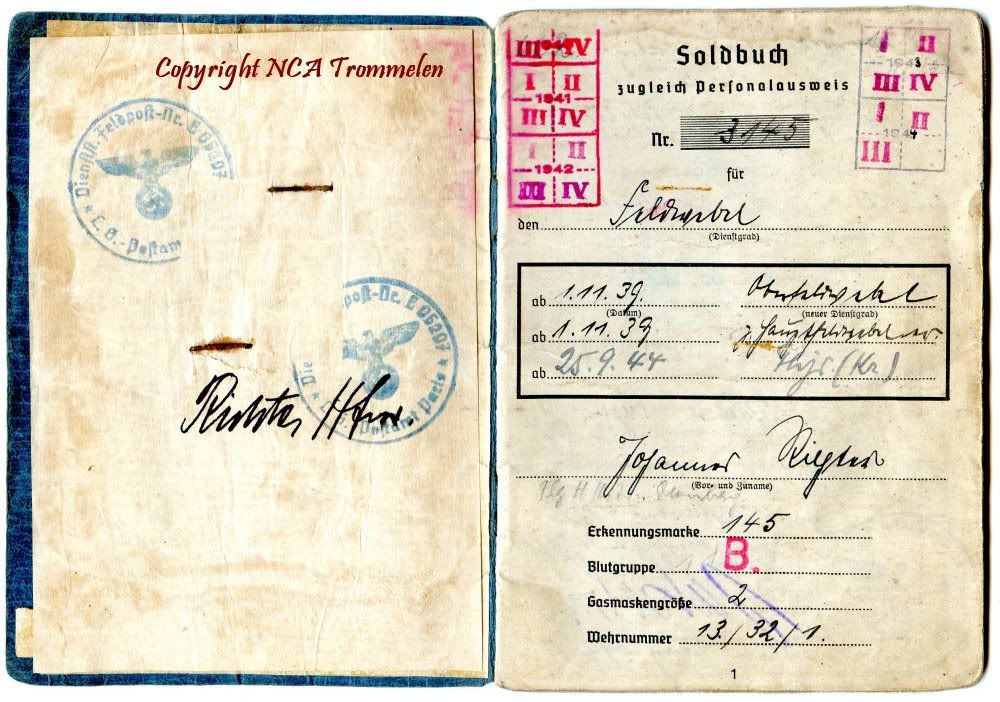 In 1939 he already received the rank of Feldwebel, and on 1 November 1939 a promotion follows listing him as Oberfeldwebel / Hauptfeldwebel. Before that he also earned the Spanien Kreuz in Silber during the Spanish civil war.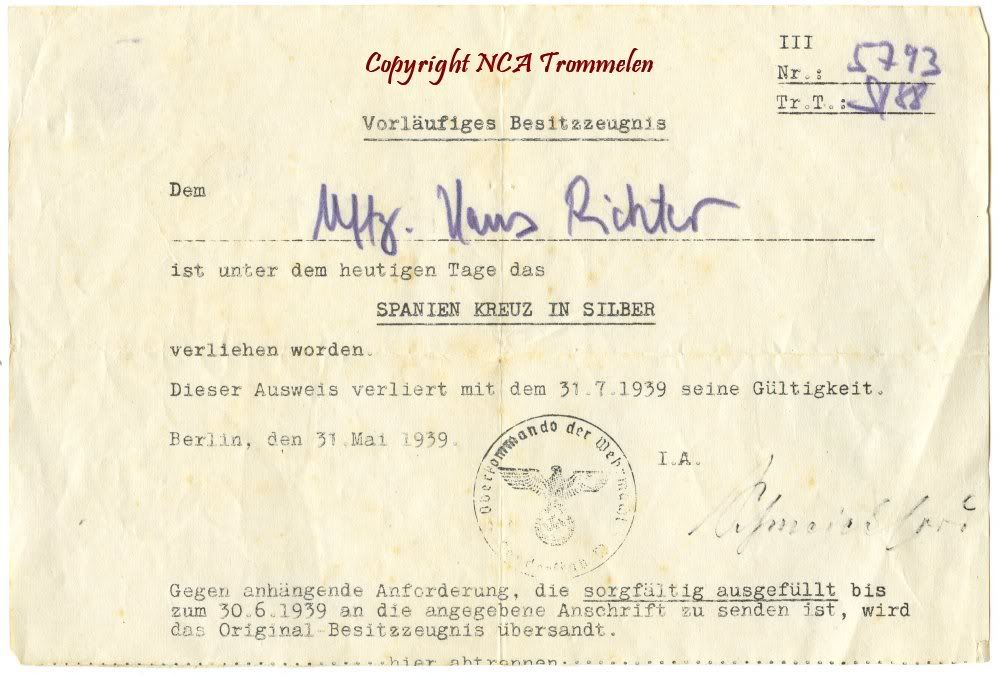 Spanien Kreuz in Silber document.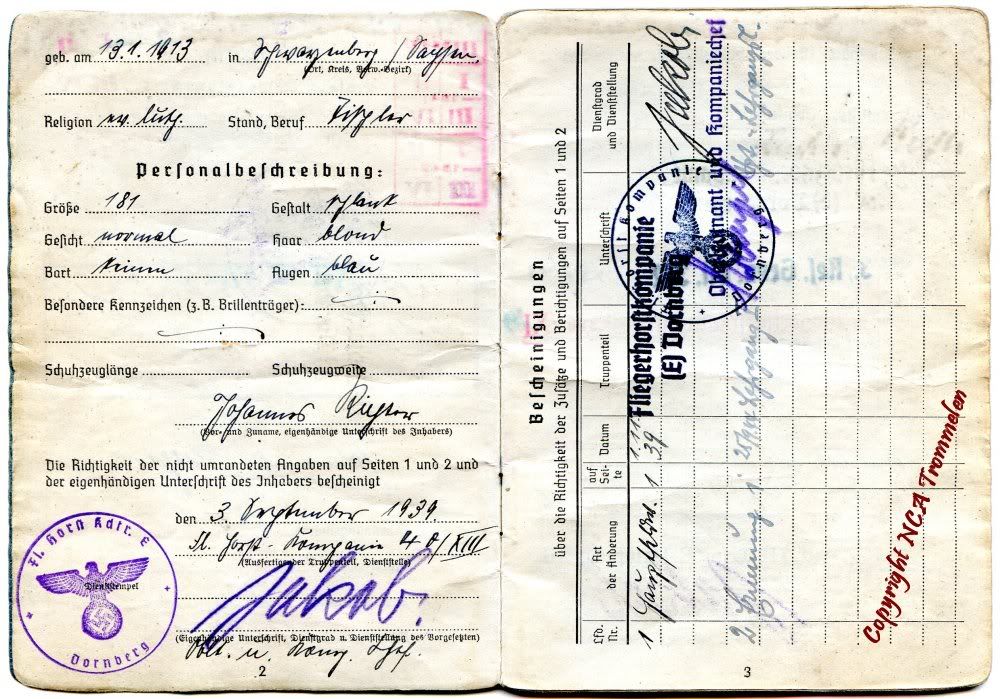 His promotions listed in the soldbuch.
His First unit in the soldbuch is Fliegerhorst Kompanie (E) Dornberg, in this unit he will stay for allmost 4 years. This unit, part of Fliegerhorst Dornberg/Schlempertshof was located near Würzburg. And was build in the beginning of the Poland 1939 campaign.
The unit wasn't much active, also it was in reserve during the France campaign in 1940.
After the German troops had taken over France in July 1940, the Fliegerhorst was abandoned and the unit moved to France, near Barosmesnil. During this small 4 years of duty with the Luftwaffe, Oberfeldwebel Richter will earn the Kriegsverdiensten Kreuz, II. Klasse mit Schwertern on 6 May 1942.
On July 1943 he stays 2 months with the Reserve Grenadier Bataillon 372, which is reserve for the 372. Infanterie Regiment. In this unit he only will stay a few weeks before he is back again to his old unit: Fliegerhorst Kompanie 40/XIII. Here he will stay again for 8 months.
After that he is transferred to the Seefliegerhorst Kompanie until September 1944.
Until now he had done some easy time in the German army which was losing the war as this point. In desparete need of new men / soldiers many Luftwaffe, Kriegsmarine and other units that where out of "work" because for instance there where no more planes to fly, these men where going to be trained for ground combat.
Oberfeldwebel Richter is transferred to the Fallschirm Schule II on 27 September 1944, where he will see training in the Fallsch.Jg.Ers.Btl. Stendal, which is training new recruits / reserves for the 3. Fallsch.Jg.Div. Just a few days before going to the Ersatz unit, he is promoted to Fahnenjunker / Oberfeldwebel, on 25 September 1944.
During his training he will receive new equipment and also a Karabiner 98 rifle with bayonet, on 5 October 1944.
His training, beginning at the end of September, will only last a poor 6 weeks for he is already send to the frontline unit: the 3. Fallsch.Jg.Div.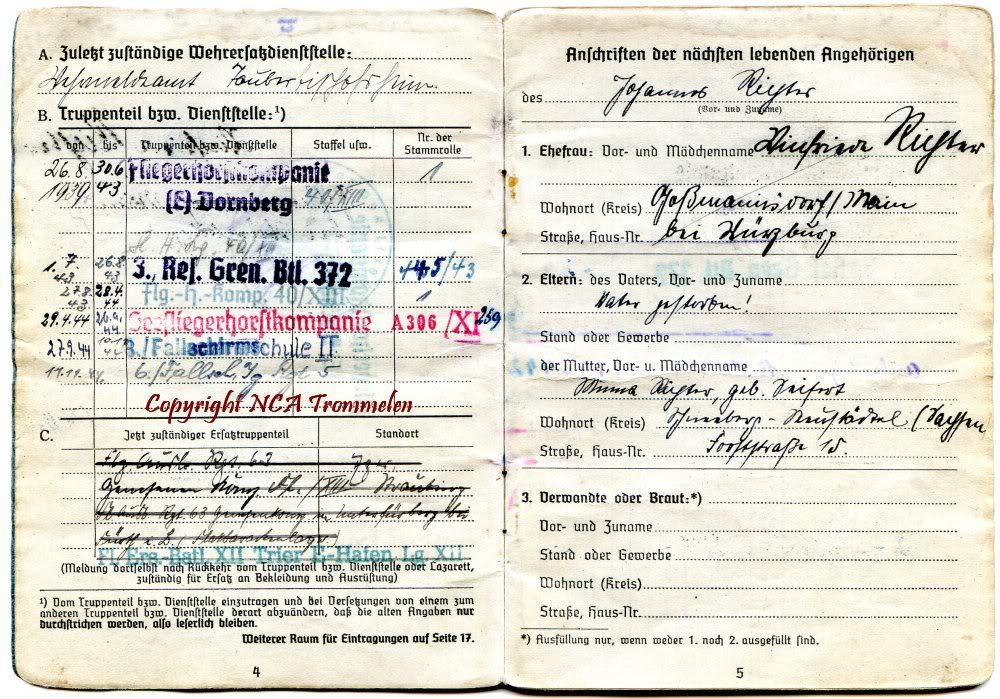 His units listed in the Soldbuch.
K98 with Bayonet recieved by the Fallschirm Schule II.
On 11 November 1944, he becomes Zugführer in the 3. Fallschirm.Jg.Div., Regiment 5,
II. Bataillon, 6. Kompanie.
The 3. Fallsch.Jg.Div. who suffererd heavy losses in the Normandy campaign, Falaise Pocket, Mons Pocket and Market Garden campaign was very under strengthened at this point.
Many Ersatz / Replacement units where to follow to strengthen up the Division.
Johannes Richter was one of them.